Dare to act, and reinforce your self-confidence – Conference with Rim Ridane, boxing world champion
Published on the November 21, 2018
–
Updated on the November 21, 2018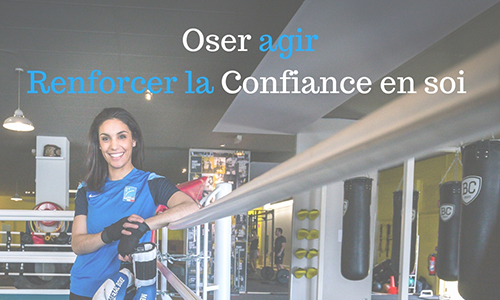 What if our individual performance depended on our ability to dare, to believe in our own potential, be self-confident or simply to be bold? Rim Ridane, 2016 French boxing world champion, gave a speech on the subject at iaelyon.
Indeed one should dare, dare to do, dare to speak to strangers, dare to say no, dare to take risks or dare to be oneself but nowadays many people do not dare, or do not dare anymore. We no longer have confidence in ourselves.

For proof, before starting a professional project, personal or sports-related, we obsess over the idea of possible success although before thinking about success we should be thinking about overcoming our apathy, going beyond our fears and telling ourselves "I can do it".

You all know the common expression "God helps those who help themselves", so before expecting anything from anyone, let's change our habits, our attitudes, let's overcome our apathy, be less conventional, let's think outside the box, take up new challenges, vanquish our fears in order to simply move forward without dreading failure. Indeed, although failure can be seen as defeat, we should keep in mind that defeat sometimes results in victory. In life, failure has to be experienced.

So be bold, and as Rim Ridane would say, Dare! "You never dared to tell someone you appreciated him/her? Do it. You never dared to start a new occupation although you wanted to? Do it. It doesn't make much difference whether you succeed or not, because you will have made a step towards your objective."

The first step is the step that counts. You will be anxious but once you will be done, you will say to yourself "if I had known…" and imperceptibly you will find or regain the confidence you lacked. A new chapter of your life will begin.


About Rim Ridane
At age six, with her two brothers, Rim Ridane discovered karate, which she practised regularly until a serious accident forced her to stop. Although many people would have given up Rim persevered in order to reach her goal: become a PE teacher. Having passed her final exam at school, she enrolled into a Sports, Exercise Science, and Technology Degree at University and chose to specialise in French boxing. Théophile Gautier defined it in one of his short stories as follows: "French kick-boxing, as we practise it today, is a complicated art, truly skilful, quite well-thought, it is like fencing without a foil […] Only, in foil-fencing, we only possess one arm while in French kick-boxing, we have four, because legs, with the state of science being what it is today, are like arms, and feet become fists… "

There was only one step from karate to French boxing, and Rim became world champion in 2016. Despite some difficulties with her fists, Rim made her feet her strong point, which became useful for "assault" fighting (technique in which the objective is to touch the adversary more times than he touches you) before practicing "combat" fighting (victory by KO). Her coaches taught her the techniques. Her courage, will and determination did the rest and six years after beginning in 2008, Rim became French university champion and titles came one after another (French champion in 2015 and 2016, European champion in 2015 and finally the grail in 2016, world champion for assault fighting).

However, Rim is not only an athlete, she is also a multi-instrumentalist (transverse flute, violin and guitar); no mystery there as according to Theophile Gautier's definition, French boxing resembles dancing, and music and dance are like one).

PE teacher, musician in her spare time, speaker, hypnotherapist, Rim was assigned by SCO Angers (football) to become high-level performance coach for the youth training centre. Such is the busy life of champion Rim Ridane whose only end-of-year goal is the world championship in Bulgaria.

Informations
Le 08 November 2018
De 18:00 à 20:00
iaelyon School of Management
Université Jean Moulin
Manufacture des Tabacs
Amphithéâtre O
6 rue du Professeur Rollet, Lyon 8e
(Subway : Sans Souci / Tramway : T4 Manufacture)
Last updated: November 21, 2018