On September 13, 2013
The IAE Lyon International Week (The International Research Seminar and The International Seminars) will take place in January 2014. Deadline: September 13, 2013.


> CALL FOR APPLICATIONS [PDF - 1 Mo]
> Application Form [PDF - 132 Ko]
> Course Proposal [DOCX - 76 Ko]
> Research Proposal [DOCX - 72 Ko]


The IAE Lyon International Week
Building on its previous success, the IAE Lyon will be running the eighth year of its International Week in January 2014. The week includes both International Seminars targeted at Master's degree students and International Research Seminars with Visiting Professors and Guest-Speakers from international institutions.

The IAE Lyon International week will take place from January 6 to January 11, 2014 and will be structured as follows:

The International Research Seminar will take place in the afternoon of Wednesday January 8.
The International Seminars will take place in two sessions:
- January 6-7 all day & 8 am
- January 9-10 all day & 11 am
THE INTERNATIONAL RESEARCH SEMINAR:
Objectives:
The International Research Seminars aim to develop and further Research projects and activities in cooperation with the IAE Lyon Faculty members and international Visiting Professors.

Research Themes:

Complexity, Innovation, Networks - Pr. Jean-Fabrice Lebraty and Senior Lecturer Guilaine Talens
International Management - Pr. Ulrike Mayrhofer
Management and Corporate Social Responsibility (CSR) - Pr. Denis Travaillé

Structure:
The Research Seminars will be conducted in English. They will consist of presentations given by guest speakers and visiting professors participating in the IAE Lyon International Week. Three parallel sessions will be organized, corresponding to the cross-disciplinary research themes identified.
Participants will be asked to communicate the topic of their presentation and the session they would like to join (Complexity, Innovation, Networks ; International Management ; Management and Corporate Social Responsibility).


THE INTERNATIONAL SEMINARS
The International Seminars are open to Master's Degree students in their first and second year; they are also targeted at our participants in life-long learning. They may be taught in English, Spanish, Italian or German by Guest-Speakers and Visiting Professors from international institutions.

Objectives:
The International Seminars aim to provide students with an international and cross-cultural approach on in-depth and capstone subjects. Courses may be either specialized subjects with a specific international focus or on a particular geographical area or cross-specialization subjects.
Courses may address issues such as Business Ethics, Conflict resolution, Project Management, Leadership, Management of Diversities, Management & Humanities; ... Courses should be interactive, based on class discussions and case studies.

Structure:
Each seminar will consist of 18 hours, from Monday to Wednesday morning for the first session and from Thursday to Saturday morning for the second. Students are assessed at the end of the courses. Applicants may apply to teach for one or both seminar sessions.

Participants:
Each seminar group is made up of students coming from the different Masters Degree programs of IAE Lyon, French and international students (either first Degree education or Professionals in Life-Long learning).
Students who participate in the International Seminars will have a good written and spoken command of the chosen foreign language.

PAYMENT
Payment for teaching one International Seminar (18 hours) will be approximately 900 Euros.
FACULTY APPLICATION
Deadline: Applicants should fill out and return the enclosed Application Form along with their resume, course proposal and Research theme proposal (if interested by the International Research Seminar) by September 13, 2013 to Mrs. Dominique LACHKAR : dominique.lachkar@univ-lyon3.fr
Information results on the selection will be given by October 8, 2012.

Questions and further information:
to be addressed to Mrs. Dominique LACHKAR : dominique.lachkar@univ-lyon3.fr

> Download the call for applications and the application form [PDF - 1 Mo]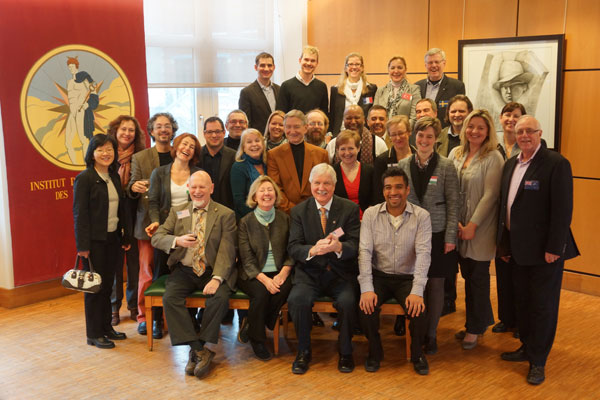 The IAE Lyon International Week
(Photo D. Venier, Université Jean Moulin Lyon 3)