When change shakes up the company 12th conference of the "Philosophy and Management" Cycle
Published on the October 3, 2018
–
Updated on the October 3, 2018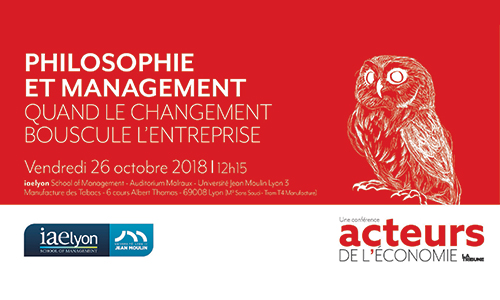 Dialogue between a philosopher and a manager. With Joel Tronchon, CSR manager of SEB group and Bruno Roche, headmaster of Lyon Collège Supérieur and philosophy professor. Iaelyon school of Management conference cycle – Acteurs de l'Economie-La Tribune.
> REGISTER

Evolution of our society requires us to rethink company practices, whether they be small or large companies. Employees often hope for this necessary transformation, which has to be both moral and technological. Yet, when change occurs, inertia is a common reaction. Why is that? Our resistance to change consists of three main obstacles that we must face: habit, fear, and the difficulty of truly knowing what we want.
What is change? Is it necessary, inevitable? What mechanisms constitute it? How do we go along with it? What do we learn from it? Should it be the be-all and end-all of management?
A debate is organised between:
Joel Tronchon, CSR manager of SEB group, global leader in the small domestic equipment sector (286 millions of products each year, 6,4 billion of euros, 35000 collaborators all over the world).
Bruno Roche, headmaster of Lyon Collège Supérieur and philosophy professor. He is the former general secretary Kirkegaard Center and is also a consultant.In 2008 he published "L'art de manager, éléments pour comprendre, clés pour agir (éd. Ellipses)" in collaboration with F. Marfoglia
This debate will be moderated by Bernard Jacquand.

The cycle of dialogues "Philosophy and Management"
Responsibility, innovation, ethics, prospective, work… can philosophy shed light on current managerial questions? So far philosophers and managers did not talk to each other very much. Nowadays, it seems interesting to allow them to meet and cross their points of view on what might become a challenge in the future: combining philosophy and competitiveness, humanism and effectiveness? Growth and wisdom…

What bridges can be found between the principles of philosophy and managerial methods? What solutions can be implemented to ensure that the act of "managing" linked to different complex human questions is performed in the light of the multiple principles of philosophy?

Helping philosophers confront their concepts with the practical experience of managers; helping managers be aware of some prejudices that condition their actions; this is the goal of the cycle of dialogues which confronts the speech of management and the speech of philosophy, and brings managers and philosophers to the same level.
REGISTRATION


The information collected in the form is subject to automatic processing aiming at managing registrations to the event. In accordance with the Data Protection Act of January 6th, 1978, you have a right of access, modification and opposition on your personal information. You can exercise it by contacting the person in charge of Data Protection at the University: cil@univ-lyon3.fr

Contact :
Partners :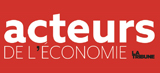 Informations
Le 26 October 2018
De 12:15 à 13:45
iaelyon School of Management
Université Jean Moulin
Manufacture des Tabacs
Auditorium Malraux
16 rue du Professeur Rollet, Lyon 8e
(Métro : Sans Souci / Tram : T4 Manufacture)
Access map
Last updated: October 3, 2018