Out now: "Exercises in human resource management with solutions, 2020-2021", by Chloé GUILLOT-SOULEZ
Published on September 25, 2020
–
Updated on September 24, 2021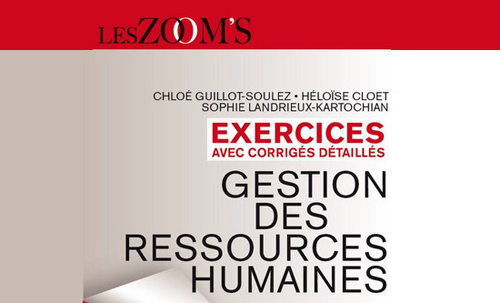 The 12th edition of the prized workbook, "Exercices corrigés de gestion des ressources humaines", written by Chloé Guillot-Soulez, Sophie Landrieux-Kartochian and Héloïse Cloet has been released.
The situation-based learning workbook allows the learner to apply principles and fundamental mechanisms of Human Resource Management (HRM) learnt in class into action, and then check the result of such actions.The following themes are explored throughout the varied exercises followed by detailed solutions:
the concept of HRM
recruitment
career management
evaluation
continuing education and training
strategic workforce planning
remuneration
working hours
professional risks
social relations
challenges in HRM
These themes make up an efficient tool for helping the student prepare and revise for exams in HRM in any program of higher education in management.

Gualino - Lextenso Edition, coll. Les Zoom's
12th edition, August 2020, 240 p.
About the authors
Chloé Guillot-Soulez former student of the ENS Cachan, is a tenured lecturer of economics and management. She teaches Human Resource Management at iaelyon School of Management, as both a lecturer and thesis supervisor. She is also the person responsible for the Master of Human Resources and Organisation Management.
> Find out more about Chloé Guillot-Soulez

Héloïse Cloet, former student of BEM/Kedge Business School, is a lecturer in Human Resources Management at the University of Paris 1 Panthéon-Sorbonne
Sophie Landrieux-Kartochian, former student of ENS Cachan, is a former professor of economics and management at University of Paris 1 Panthéon-Sorbonne and Georgia State Univeristy. She is currently a web journalist.
Last updated: September 24, 2021
In the same section
--> https://iae.univ-lyon3.fr/out-now-exercises-in-human-resource-management-with-solutions-2020-2021-by-chloe-guillot-soulez