Teaching and Research opportunities at iaelyon
Strongly internationally focused, iaelyon School of Management offers international faculty the opportunity to teach in its degrees and to participate in Research projects on campus.
VISITING PROFESSORS AT iaelyon

Visiting Professors teach in iaelyon National or University Degrees and may also participate in Research Seminars and Higher Education & Research Conferences.
Invitations for Visiting Professors are generally on a one month basis equivalent to a minimum of 12 contact hours of teaching.
Applications for Visiting Professors are selected by iaelyon Recruiting Committee and validated by the University Councils.
Compensation varies according to geographical areas and transportation and accomodation are at the expenses of Visiting Professors.

PARTICIPATION IN iaelyon INTERNATIONAL WEEK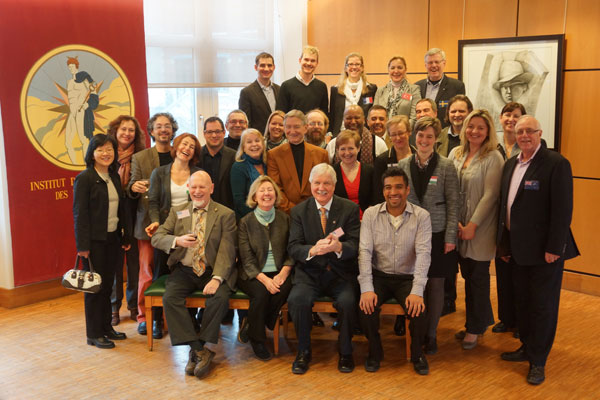 iaelyon
International Week takes place in early January every year and includes:
> Two sessions of international seminars. Each one is 18 hour-long and is taught on 2,5 days
> Research seminars
> Pedagogical innovation and TEL workshop
Participants can choose to teach during the first, the second or both sessions of International seminars
Applicants are selected by iaelyon International and Research Comittee based on their application form and credentials
Compensation is on an hourly teaching rate and transportation, room and board are covered by iaelyon
PART-TIME TEACHING OPPORTUNITIES AT iaelyon

iaelyon
offers all year round part-time teaching opportunities within its national degrees.
The number of contact hours of teaching is agreed with the Academic Director of the degree
Applications are selected by the Academic Director
Recruiting conditions and remuneration vary depending on the degree
CONTACT:

Ms. Tessa ADRIAN
International Activities Manager
Ph. +33 (0)4 26 31 88 44
tessa.adrian@univ-lyon3.fr

iaelyon School of Management
Université Jean Moulin
6 Cours Albert Thomas - BP 8242
69355 Lyon cedex 08 (France)
Last updated: December 12, 2017