Courses

,

International

,

Research

,
The iaelyon International Week 2022: call for applications
Published on July 21, 2021
–
Updated on December 6, 2021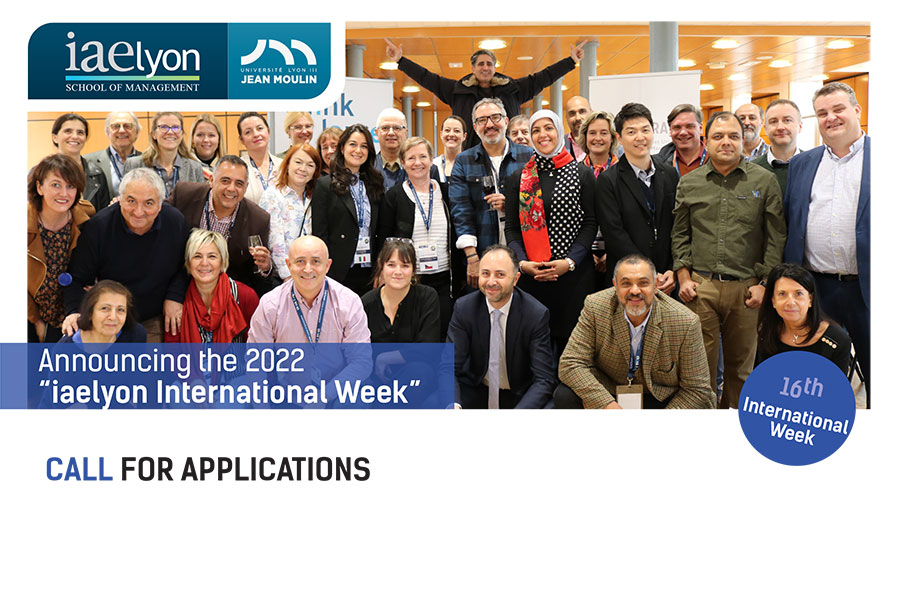 Building on its previous success, iaelyon will be running the 16th edition of its International Week in January 2022. The week includes International Seminars targeted at Master's degree students and executive participants, International Research Seminars, and an international CSR Network with visiting professors and guest speakers from international institutions. Application deadline: September 20th, 2021
From Anass NIDAM, Vice-Dean and Director of International Activities : -------------------------------------------------------------------------------------------------------
Dear all,
We are delighted to inform you that iaelyon School of Management will be running its upcoming International Week from January 5th to January 12th, 2022.
Our School hosts every year an International Week during which 40 guest speakers from around 25 countries teach International Seminars in English/Spanish/Italian/German targeted at our Masters and Executive students.
During their visit guest speakers are offered the opportunity to participate in a Research workshop or a CSR Network workshop along with other Visiting Professors and Faculty from our School.

The iaelyon International Week, launched 16 years ago is a tool for internationalizing courses, faculty and Research and to create cross-disciplinary links on campus. Greatly appreciated both by guest speakers and students, the iaelyon International Week provides participants an original experience of the "Global Village".

Faculty interested in participating in the iaelyon International Week should send back the attached application form along with a resume and a course proposal by September 20th, 2021.
Please kindly note that teaching along with Travel & Board expenses are covered by our School.

We hope to welcome you soon at iaelyon School of Management
The iaelyon International Week
The iaelyon International week will take place from January 5 to January 12, 2022 and will be structured as follows:
The International Seminars will take place in two sessions:
> January 5-6 all day & 7am
> January 10-11 all day & 12am, 2022
The International Research Seminars: January 7pm, 2022
The International CSR Network: January 7pm, 2022
1/ The International Seminars
The International Seminars are open to Master's degree students in their first and second year. They are also targeted at executive participants. They may be taught in English, Spanish, Italian or German by guest speakers and visiting professors from international institutions..

Objectives:
The International Seminars aim to provide students with an international and cross-cultural approach on in-depth and capstone subjects. Courses may be either specialized subjects with a specific international focus or on a particular geographical area or cross-specialization subjects. Courses may address issues such as Business Ethics, Conflict Resolution, Project Management, Leadership, Management of Diversities, Management & Humanities...
Courses should be interactive, based on class discussions and case studies.

Structure:
Each seminar will consist of 18 hours, from Monday to Wednesday morning for the first session and from Thursday to Saturday morning for the second. Students are assessed at the end of the courses. Applicants may apply to teach for one or both seminar sessions.

Participants:
Each seminar group is made up of French and international students, coming from the different Masters' degree programs at iaelyon, as well as executive participants. Students who participate in the International Seminars have a good written and spoken command of the chosen foreign language.

Payment:
Payment for teaching one International Seminar (18 hours) will be approximately 900 Euros.

2/ The International Research Seminar | January 7pm, 2022
Objectives:
The International Research Seminars aim to develop further Research projects and activities in cooperation with iaelyon faculty and international visiting professors.

Research Themes:
International Management
Entrepreneurship dynamics and ecosystem
Value of Cooperative and mutual model
Sustainable Performance

Structure:
The Research Seminars will be conducted in English. They will consist of presentations given by guest speakers and visiting professors participating in the iaelyon International Week. Three parallel sessions will be organized, corresponding to the cross-disciplinary Research themes identified.

3/ The International CSR Network | January 7pm, 2022
Objectives:
Sharing good practices and relevant examples of CSR implementation in Business Schools and Management Education.


Testimonials: The iaelyon International Week
(Videos: University Jean Moulin)
Contact :
Thématiques :
Courses; International; Research
Application Process
► Applicants should send their application form along with their resume, course proposal and Research/
CSR theme proposal by September 20th, 2021 to
iaelyoninternationalweek@univ-lyon3.fr
► Information on the results will be given by October 22nd, 2021.
iaelyon School of Management
Last updated: December 6, 2021
In the same section
--> https://iae.univ-lyon3.fr/the-iaelyon-international-week-2022-call-for-applications