The "Manufacture des Tabacs" Site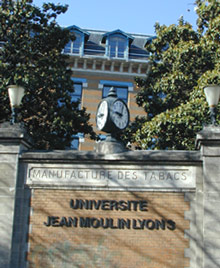 The iaelyon is located in the center of Lyon, on a campus called "Manufacture des Tabacs", an ancient Tobacco Manufactory completely renovated with a broad range of dedicated facilities.
Students have easy access to urban life and to student residences with metro, buses and the tranway at hand. The University includes 4 Faculties besides the iaelyon and educates some 23,000 students per year both at the undergraduate and graduate level.





Access map to the Manufacture des Tabacs, Metro bus et station

>
Download the map
The Universitary Site of the Manufacture des Tabacs
> Download the map

iaelyon School of Management
Université Jean Moulin
Site Universitaire de la Manufacture des Tabacs
6 cours Albert Thomas
69008 LYON
Tel : +33 (0) 4 78 78 70 66
Access :
Last updated: July 28, 2016