Ulrike MAYRHOFER
Meet Ulrike MAYRHOFER
Once you have developed a taste for the international life, it is difficult to resist it!
If travelling shapes character, it can also build a career. Crossing borders is Ulrike's favorite game: she is the kind of person to rather roam the globe than just watch it go round. It must be said that for this native of Austria, the tendency to escape does not date from yesterday. From Sweden to England, Ulrike had already earned a few miles before weaving a link with France.

A full professor and even more, she masters the art of combining effectiveness and simplicity: "I have never been elitist, my profile is not classic". And if the look is tense, it soon gives way to bursts of laughters and a friendliness with the hint of an accent. More enthusiastic about international transits than about beach chairs by the water, Ulrike is a tireless researcher who masters the magic of well-conceived work carried out in peace and quiet.

Squeezed between an adventurous childhood and an international career, her studies could perfectly from overcome the limits. Before playing away, Ulrike tried her hand at home attending a preparatory class at the Lycée Français in Vienna. In addition to France, she explored Italy, Canada and the United States, an epic from which she came back as a polyglot delighted with the direction taken by the arrow of her compass: "Once you have developed a taste for international life, it is difficult to resist it!", she warns. If her passion for Management is extreme and commitment to international life special, her intention to work in a company was thwarted during her years at EM Strasbourg where she discovers her destiny as a researcher and lecturer. Besides, her thesis supervisor, Sabine Urban, rapidly convinced her to move from University benches to University chair: "She is someone who considerably marked me as a professor and as Dean of EM. She introduced me to the various aspects of the profession". A wise choice of career when we know how much Ulrike's work contributed to the field of International Management: Her modesty will probably prevent her from confessing it but this key figure of iaelyon has been collecting an amazing number of prizes and rewards. With a record of ten "Top Author" Stylos D'Or (Golden Pens), she is now accustomed to distinctions. Despite this fully-loaded pencil case, Ulrike never let her ego inflate; she prefers to keep her feet on the ground and put on her seven league boots.

I like projects which allow me to combine research and business
Between book writing and thesis supervisions, she is also the Director of the iaelyon International MBA, a very concrete degree intended for those who already are born-business people. Engineers, business leaders and anyone with a curiosity about entrepreneurship line up in the hope of being admitted to this program: "This is really exciting because the participants in this MBA ask immediately very concrete and operational questions". Idealistic young shoots or seasoned pros in search for knowledge development, Ulrike could not choose; she remains determined to build bridges between the worlds and link everybody: "I like projects which allow me to combine research and business. It also allows me to work with researchers as well as with entrepreneurs and administrative staff." Indeed, she always has a kind word to offer Manuel, Ludivine, Jérôme and all the other members of iaelyon "dream team". It is preferable to have plenty of support around you if you wish to extend your scope. Thus, Ulrike initiated a Francophone think tank on International Management with a few friends from Atlas AFMI, a francophone organization to think about international management. Unlike those who are everywhere and nowhere at the same time, her personal strength allows her to be simply everywhere. A vigor which characterizes her and which she surely owes her mountain-dweller temperament, "strong people!", she says.

A Professor, Director, President and Researcher, when Ulrike takes a break, it is to put on her Consultant cap. With her curiosity which honors iaelyon motto, she is not prone to discriminating and is interested in large as well as small companies. Going from market to market, she works with bioMérieux as well as with Merck Group, without forgetting startups which capture her interest: "It is very rewarding because everything has to be done. You must find where to go and how to get there". Something to satisfy her German pragmatism and her methodical empiricism. And if, as she readily admits, "creativity is not her strong point", optimism is never lacking inspiration when it comes to cheer her loved ones whom she regularly takes away with her on her adventures to the end of the world. Something to blow to bits banalities and prove that labor and happiness are right to value each other.
Think large is iaelyon motto, what does it mean to you?
International openness but above all the multiple profiles and fields of our School.
And if you had to draw the portrait of iaelyon?

An entrepreneur! A person who encourages others to take initiatives.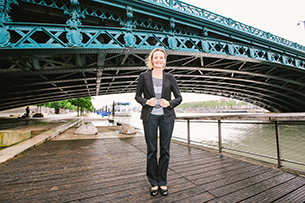 © TRAFALGAR MAISON DE PORTRAITS – 2017
Last updated: January 30, 2018