Valérie Pelazzo-Plat
Meet Valérie PELAZZO-PLAT, Director Quality processes and accreditations department
Here I found balance
Her gait is discreet, her phrasing cautious: though less shy than measured, Valérie has the look of a delicate and sensitive woman, anxious to preserve herself. Fascinated by artistic creation and everything that imagination allows to shape, she likes to visit art galleries and fine art museums – these "safe havens" – quiet and singular spaces, where there is always a work of art to talk to. Putting words on images, putting images behind words: a gift she no doubt acquired at the literary preparatory classes she attended.

What is sure is that by devoting so much time to the study of characters – from the significant to the signified – Valérie is not the kind to take them lightly: "I like the weight of words and all they may contain at the same time. I like to associate them, separate them, translate them and take the time to choose them. This may be the reason why I feel more comfortable with writing than with speaking", she admits. If we add eight years of commitment to the University Jean Moulin and almost thirteen years at iaelyon, the career thread of this graduate with a Master's in AES and LEA has not always been guiding. With a non-hidden pleasure, the former Executive Officer recalls her status as tightrope walker and her tendency to follow "her instinct and her heart":
"I have never been afraid to commit myself fully. Even when my three children were little! It is true that I care very much about the idea of balance because before I take a decision, I know how to listen to myself, take regular breaks and breath". The Sans Souci metro station has long been – as its name implies – the comfortable and reassuring landmark for this serious student, but it is abroad that Valérie will complete her studies and won her passport for professional life: "At some point, I felt the urgent need to go away, to break off… »

England, first; a life punctuated by revising, sports, solitary walks "along the beautiful pond" as well as meetings with other students: "An Indian, a Turkish, a Belgian, a German, a Jordanian student… Diversity in all its forms". The United States then, where her ambition led her to prepare an MBA and specialize in Communication and Advertising: "Gap years are the kind of break which gives you the opportunity to leave and better know yourself. I returned home mature, confident and more assertive". Her face in her hand, Valérie is silent for a moment of nostalgia and her gaze reviews the numerous memories which she does not seem to have gotten over. Washington, "the campus life", where the library opened all night is next to the multiple language laboratories, "all these places that produce knowledge…" If Valérie likes to learn, understand and draw lessons, she is far from thinking about working one day in this area "even in Higher Education" ! While she carries out an internship in a Lyon Communications Agency, this polyvalent Sales Manager, appreciated for her professional conscience and maturity, is soon recruited. Reliability, loyalty…she will support her first employer up to the bankruptcy: "For me, the idea of continuity is very important. I have kept the same friends since secondary school and I am still in touch with this Director… Today, some of my professors have become colleagues and I am working at the University where I studied… "

"Forever" grateful for this "extraordinary opportunity" provided by iaelyon exchange program and agreement, Valérie does not stop praising the program. In particular, the International Relations Service in which she accepts to work without hesitation: "I was offered to join it as I was looking for a job. At this moment, I felt really proud to be able to do what others had done for me". Convinced that it would only be an interlude of "a year or two", it is however here and without punctuation that the longest chapter of her professional life will be written. In charge of International Programs, then Project Manager at the University, Executive Officer and now in charge of accredidations and quality processes at iaelyon, Valérie acquires a global vision of the institution which will be necessary to understand the development strategy. If she summarizes with confidence her missions and development over the last nineteen years, Valérie suddenly doubts about the general veracity of the facts:" Nineteen years! I never would have thought that I would stay for so long in the same place! Time has gone by very quickly…That goes back to my point about the idea of balance between landmarks and novelties. I found this balance here".

I find it is completely wrong to say ''It was better before''!

Launching projects, multiplying network parties, exchanging with regional cultural institutions: whether the aim is to federate, create links or even mix cultural with business projects, her smart mind made her a master in the art of bringing down the walls: "When we bring together our graduates around the ''Art and Management'' project, when I meet the Director of Lyon Fine Arts Museum or the Dance Biennial…I always enjoy it! I am very lucky!", she says before correcting herself: "I always tell myself how lucky I am! It is true, but I probably created my luck a little bit too… ". From her daily life and the richness of her activities, this woman of letters finally drew "many little stories" which usually make her circle of friends laugh and that she plans to write down on paper one day. While waiting to take up this editorial challenge, like all creative artist at heart, Valérie keeps taking in the beautiful waves and participate in maintaining iaelyon family atmosphere. Today still, she is deeply impressed by "this turmoil, this effervescence, this cheerfulness, this generosity" which welcomed her when she arrived as well as by the quality of her relationship with her Director and her Deputy Executive Officer: "I have rarely met anyone as generous as Manuel Sanchez… I must say he is rather unique…" Valérie could well be accused of having a romantic or too idealistic vision, but never mind! There is only one admitted quest for her: singularity and authenticity. In the same hallways which she walked down before going to lectures halls or tutorials, she sometimes looks at students stepping out of the line with determination: "It always moves me. Today, they could be my own children", she jokes. And she adds more seriously, "They did not yield to social pressure or to the fear of not following a ready-made path. When you arrive at University, you are in the middle of a time of self-discovery; I feel it is not absolutely necessary to limit this discovery with a set idea or a job. What matters more is to identify your tastes and the environment in which you feel at ease. Mine is here!", she concludes.

She who one day pictured herself as a psychologist or a writer, who earned a literary baccalaureate with a minor in Mathematics, who studied Languages and Management to work in Communication and Advertising, who finally was less concerned with finding what she could become than finding what she could like, cannot help but keep a sense of proportion in terms of determinism and the relevance of following large avenues without conviction: "Of course, I can make sense of what led me to do such and such a thing, but it is always afterwards that you manage to do this. Finally, I am really far from having followed a linear path as we were asked to plan at the end of secondary school". As a supporter of this youth who is also the strength of iaelyon, she adds: "I find it completely wrong to say It was better before! I don't like what I hear about generation X and Millennials, those who are called "zappers". I believe in dynamic, committed, organized students who have a real system of values and are able to defend very serious causes!". In comparison to these numerous artists she discovers and appreciates because they have been bold and created from raw or processed materials, what Valérie seems to welcome is basically those who question in style their places and functions.
"Think large" is iaelyon's motto, what does it mean to you?
The idea of welcoming, novelty, difference and open-mindedness. This ability to bring down the walls!
And if you had to draw a portrait of iaelyon ?
An ebullient personality, always moving!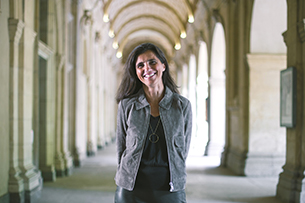 © TRAFALGAR MAISON DE PORTRAITS – 2017
Last updated: September 28, 2018