HEM Business School : 373 Master's students graduated from iaelyon in 2019
Published on February 27, 2020
–
Updated on April 13, 2021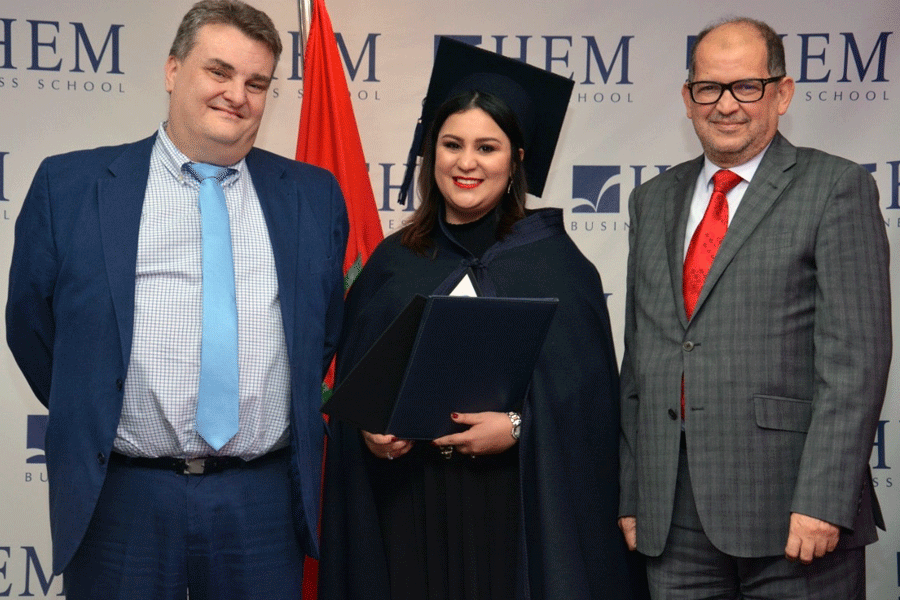 Organised throughout December and January on the five campuses of HEM Business School (Casablanca, Rabat, Marrakesh, Tangier and Fez), the graduation ceremonies were a chance to congratulate the class of 2019, of which several graduated from an iaelyon offshore degree.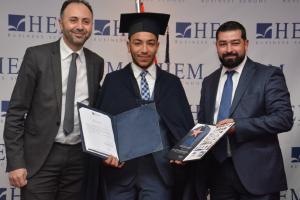 The graduation ceremonies are held in the presence of Representatives of the HEM Business School : Yasmine Benamour, Director-General, Hassan Sayarh, Vice Dean, and the Directors of the five campuses.

Christian VARINARD, Dean iaelyon and Anass NIDAM, Vice Dean and Director of International Affairs, also attended the ceremonies with their HEM colleagues to deliver the diplomas to the graduates of the offshore degrees, notably the 6th class of the Master's in Finance, and Master's in International Business in Tangier and the 5th class of Master's in Finance in Fez.
Every single graduation ceremony was honoured by the presence of a patron and special guest:
HEM Casablanca : Mr. Hicham Iraqi Houssaini, Director-General of Microsoft
HEM Rabat : Mr. Nourredine Bensouda, General Treasuror of the Kingdom of Morocco
HEM Fès : Professor Radouane El Mrabet, President of the University Sidi Mohamed Ben Abdellah of Fez
HEM Marrakech : Mr. Mohamed Zahid, CEO of Menara Holding
HEM Tanger : Ms. Chaibia Alaoui Belbzioui, President of the AFEM Tanger Tétouan-Al Hocaima

About HEM Business School
HEM Business School was founded in 1988. The school is a locally adapted and developed version of the "Grande Ecole" system in France, which is distinguished by an entrance exam, an integrated preparatory system, small year group, supportive management and teachers, interactive teaching and learning methods and subjects based of two dimensions, cultural and professional.

Following this logic, HEM has constructed, over a quarter of a century of existence, a model which is based on strong values and socio-economic realities in Morocco. The HEM model is a true product of Moroccan-specific pedagogical expertise, with an international dimension supported via renowned partners.

HEM currently has five campuses (Casablanca, Rabat, Marrakesh, Tangier and Fez). It has more than 1800 enrolled students and more than 5000 graduates. iaelyon has developed offshore degrees with HEM since 2004 and currently supports 5 degrees through HEM Business School: Master 's in Marketing and Sales; Master 's in Finance; Master's in International Business; Master's in Accountancy, Controlling and Auditing; Master's in Human Resources Management.

► www.hem.ac.ma
Last updated: April 13, 2021