Master of International Management - European Affairs Management : a learning expedition to the heart of agriculture 4.0
Published on July 9, 2021
–
Updated on July 19, 2021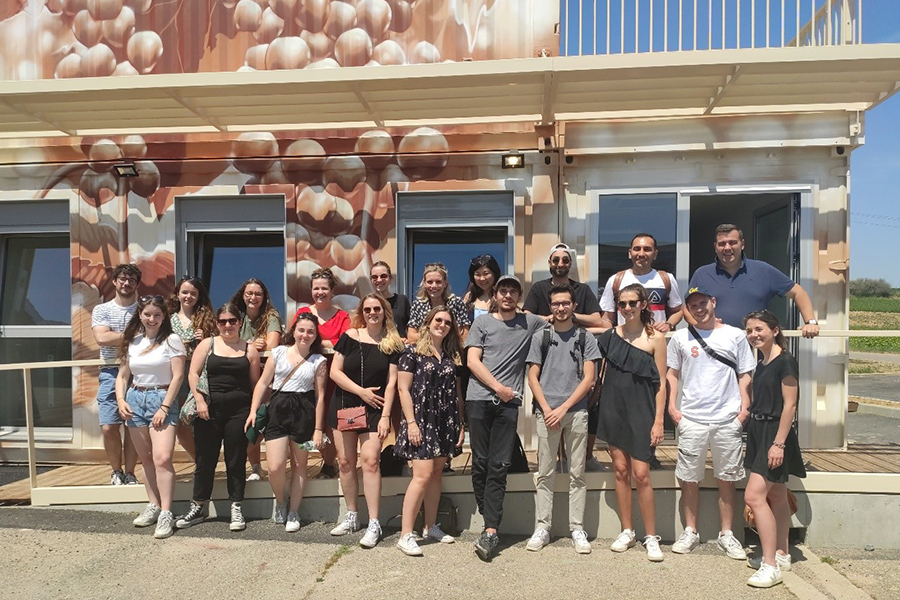 On the 16th June, 19 iaelyon students of the Master of International Management - European Affairs Management had the chance to meet agricultural professionals from Saône-et-Loire (Burgundy). Organized by David Barthe, Director of the program and Director-General of the Chamber of Agriculture of Saône-et-Loire, the excursion allowed students to better understand the challenges and the richness of the agricultural world – on both a local and international level: the impact of geopolitical tensions on the trade of agricultural commodities; digitalization of agriculture; innovations and new strategies in the sector; and development of eco-friendly solutions.
The second-year students from the
Master of International Management- European Affairs Management
begun their day with a visit of the experimental farm in Jalogny, accompanied by Jérémy Douhay, agricultural engineer at IDELE. Piloted by the Chamber of Agriculture, this farm aims to test innovations allowing to improve the efficiency of production methods of beef and their environmental impacts.
The visit was followed by another to Vitilab de Davayé, an eco-friendly structure of Vinipôle Sud Bourgogne. Created in 2021, the Vitilab is an organization dedicated to experimenting, innovating and accompanying winemakers in both their digital transition as well as the evolution of their methods, as a response to climate change and the emergence of new vegetal materials.

Sharing the experience
At the end of the day, the students had the opportunity to exchange with Guillaume Paire, an activity leader at Vitilab, as well as with three export managers : Edouard Cassanet, Director-General of the
Cave de Lugny
, and Michel Fénéon, Chief Administration Officer and Yves Jehanno, Commercial Director of
EuroFEDER
.
These three professionals showed the strategies adopted to conquer foreign markets. The students were exposed to the political tensions that are involved with the international development of the food-processing industry.
The students were also led to comprehend the effort taken by professionals in the sector to improve communication with civil society, to make agriculture eco-friendlier, and to respond to new expectations from stakeholders.
The visit finished with a tasting of regional delicacies, offered by the Chamber of Agriculture and showcasing the Association of Local Producers of Saône-et-Loire.
Contact :
Thématiques :
Student life
Master of International Management- European Affairs Management
Last updated: July 19, 2021
In the same section
--> https://iae.univ-lyon3.fr/master-of-international-management-european-affairs-management-a-learning-expedition-to-the-heart-of-agriculture-4-0