15th Edition of iaelyon International Week: a virtual experience
Published on January 20, 2021
–
Updated on September 27, 2021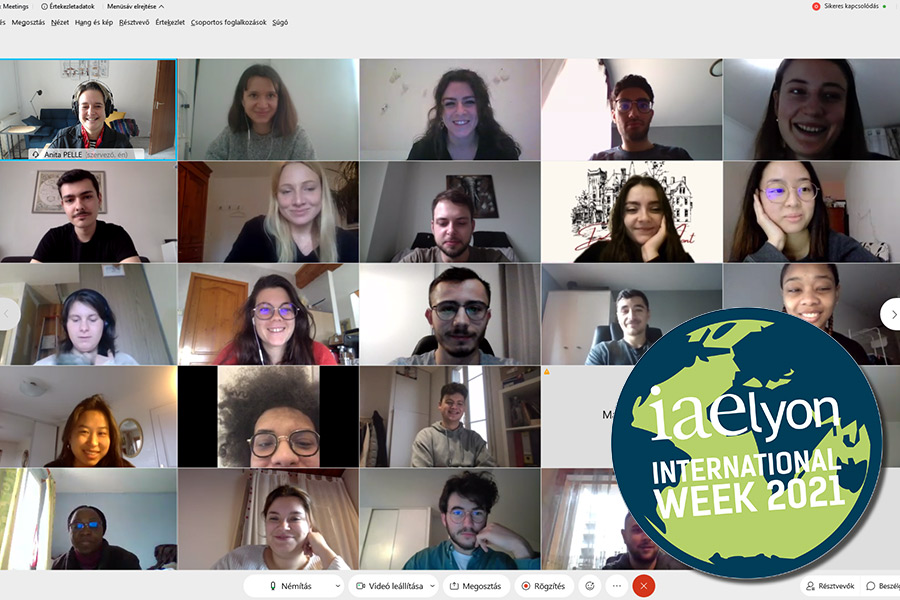 Due to the current health crisis, the "global village" and an integral part of the DNA of iaelyon, our International Week, had to take place online for both our students and the teachers. The lack of human interaction did not take away from the richness of the exchanges throughout and in all of the dimensions of the event.
2000 students participated in 74 seminars across different time zones
Taught by 43 teachers coming from more than 25 countries, the classes were organized live around the world, with some specific adapting needed."The seminars were organized on three different time periods" explained Mathilde Desplans, coordinator of iaelyon International Week. "From 8AM to 3PM for Asia and Australia, 10AM to 5PM in Europe and the Middle East, and 1PM to 8PM for North and South America. We also put in place a virtual "Teacher's Lounge", open from 7AM to 10PM so that the teachers could come together during their breaks throughout the week."
"This year, the students prepared better group presentations than any time earlier! They were very creative, smart, many times funny. "
Anita PELLE, University of Szeged (Hongrie)
'Doing business in Europe in critical times'
"It was a pleasure participating in the 15th edition of the International Week. Despite the challenges, I found the students engaging and particularly gracious to each other. The experience taught us all that the global village is small and with technology, there is ample room for creativity and collaboration."
Eddy SOUFFRANT, University North Carolina at Charlotte (USA)
'Elements of Corporate Social Responsibility: Toleration and diversity'
COVID-19, the uninvited guest
The health crisis was at the heart of many of the themes that were taught during the week and proposed to our students: "HR management issues and challenges in 2021" and "Telework issues and challenges" (Diane-Gabrielle Tremblay, Canada) as well as "Managerial economics: opportunities to invest in emerging markets after COVID-19" (Jorge GUILLEN UYEN, Peru).

It was also the heart of the CSR Network, which brings together teachers from the International Week, primarily coming from schools that are also members of the PRME and UN Global Compact networks. The meeting that took place this year looked at the actions put in place in each school to assist their communities since this time last year: In what way did the health crisis reinforce our social and societal engagement? How are the schools using the crisis to assist students, personnel, but also business and other stakeholders in their ecosystem?
Seminars for administrative staff to deal with the crisis
The crisis was also the main topic of discussion for one of the two seminars offered to the administrative personnel of iaelyon, "International resilience management in COVID-19 era and beyond", given by Rania Azmi (Kuwait-based consultant).
« Going beyond the satisfaction of students and teachers, » says Anass Nidam, Vice Dean of Piloting and International Activities, "I am delighted the see the continued vested interest from our administrative colleagues, with more participation and themes in line with current events"
iaelyon International Week 2021 in numbers
74 seminars in Management 2.000 étudiants (15th édition)
43 teachers from 25 countries
1 seminar organized by HEM Maroc
The 1st edition of the business game "Square One Socials"
The 12th edition of the research seminar : 7 papers presented with 30 participants
2 seminars for administrative staff (2nd edition)
1 CSR Workshop (6th édition)
Last updated: September 27, 2021
In the same section
--> https://iae.univ-lyon3.fr/15th-edition-of-iaelyon-international-week-a-virtual-experience