3 seminars of the 2023 International Week open to professionals: register now!
Published on December 2, 2022
–
Updated on December 8, 2022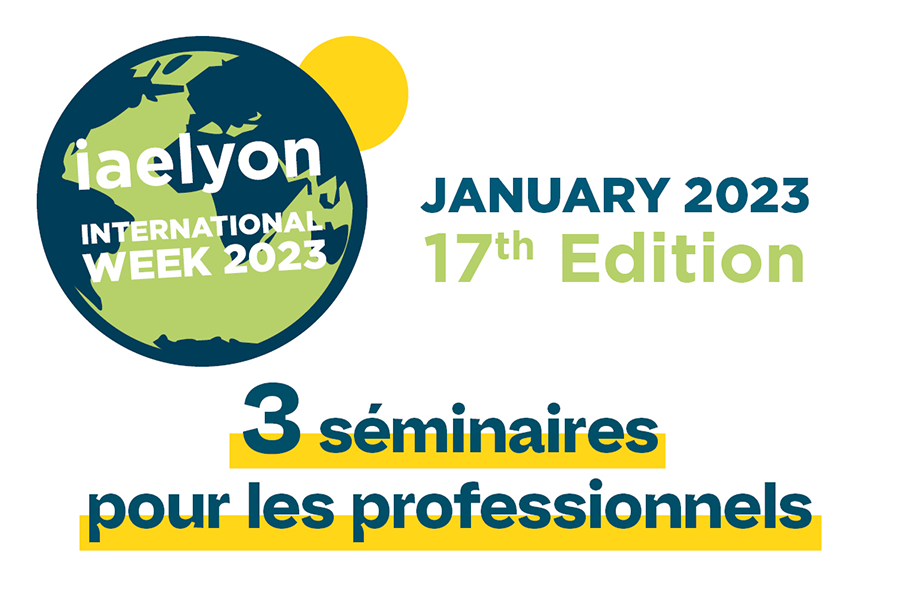 Intercultural Management, Leadership, Telework and hybrid models: update your skills in management in an international and intercultural context. 18 hour-seminars taught in English.
These short seminars in English, organized within the 17th iaelyon International Week, bring a new light on the international skills and practices. Subjects are addressed through recent themes by speakers who are recognized in their field.
The pedagogy, based on interactivity, exchange and experience sharing, is particularly adapted for the diversity of the audience (master students, cooperative education and professionals).
INFORMATION
Hours: 18 hours (2 days and a half)
Location: iaelyon School of Management - Campus Manufacture des Tabacs - Lyon 8th
Number of participants per seminar: around 25
Teaching language: English. A good level is required.
Participants: students and professionals
Price: €1 650
3 SEMINARS OFFERED
Intercultural management
Silvia DIDIER, Associate Professor, iaelyon School of Management
►
Program
Course objectives:
Acquire knowledge of the different paradigms and models in intercultural management
Develop intercultural skills and competencies
Wednesday January 4th: 9am-12:30pm / 2m-5:45pm
Thursday January 5th: 9am-12:30pm / 2m-5:45pm
Friday January 6th: 9:30am-1pm
Contemporary leadership: meeting new challenges
Julija JACQUEMOD, Assistant Professor, RISEBA University (Latvia)
►
Program
Course objectives:
Get acquainted with the main approaches to leadership
Get knowledge on understandings of the terms «ethical» and «unethical leadership»
Address own weaknesses and strengths in taking decisions
Appreciate application of leadership communicational skills in practice
Wednesday January 4th: 9am-12:30pm / 2m-5:45pm
Thursday January 5th: 9am-12:30pm / 2m-5:45pm
Friday January 6th: 9:30am-1pm
Telework and hybrid work models: issues and recent developments
Diane-Gabrielle Tremblay, TÉLUQ - Université du Québec, Montréal (Canada)
►
Program
Course objectives:
Understanding of telework and coworking challenges and issues
Understanding of international as well as national situations on telework and coworking;
Capacity to intervene on the issues of the course;
Monday January 9: 9am-12:30pm / 2m-5:45pm
Tuesday January 10: 9am-12:30pm / 2m-5:45pm
Wednesday January 11: 9:30am-1pm
For more information or to register:
iaelyon School of Management
Direction Continuing and Executive Education, Cooperative Education and Careers
contact.iaefc@univ-lyon3.fr
Phone number: +33 (0)4 78 78 71 88
Last updated: December 8, 2022
In the same section
--> https://iae.univ-lyon3.fr/3-seminars-of-the-2023-international-week-open-to-professionals-register-now