Henri Savall appointed « Chevalier of the Legion of Honor »*
Published on February 13, 2017
–
Updated on February 14, 2017

Henri Savall, Professor Emeritus in Management at iaelyon - University Jean Moulin, Founding President of the ISEOR (Center for Research and Expertise in Socioeconomic Management), was appointed "Chevalier of the Legion of Honor" on January 1st, 2017 by the Ministry of Education, Higher Education and Research.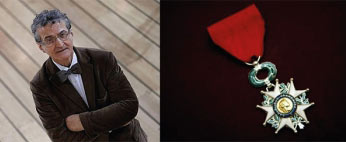 This national high distinction rewards Henri Savall for the numerous works he has been dedicating himself to over the past 40 years with his team towards a more human economy, a more ethical social life and a more citizen-centered and less elitist University both at the national and international level.

About Professor Henri Savall
"The human factor is the only true factor for the creation of economic value, the Capital factor being only a tool used by human actors with more or less relevance, efficiency and effectiveness."

Henri Savall is Professor Emeritus in Management at
iaelyon
- University Jean Moulin. He holds a state Ph.D. in Economic Sciences from University Paris II – Award of the best thesis of the University Paris II- 1973 (Supplementary thesis focusing on Economic Sciences, University Paris IX Dauphine- IAE Award in Management, 1974) and a Bachelor in Economic Sciences (former scheme, equivalent to a Master's degree).
He graduated from l'Institut d'Etudes Politiques de Lyon (Lyon Institute of Political Studies) with a preliminary degree in chartered accounting (equivalent to DESCF : Higher Education Degree in Accounting and Finance) and from the Ecole Supérieure de Commerce de Lyon (Lyon Graduate School of Business), now emlyon Business School.
Henri Savall has been the founding President of the ISEOR since 1975
(Center for Research and Expertise in Socioeconomic Management). He is the founder of the socio-economic theory and led numerous interventional Research works of socio-economic innovation both within organizations in France and abroad. He is also the founder and facilitator of the Research program conducted within
1854 companies and organizations, 72 sectors and 40 countries since 42 years.

He created and developed 8 training courses in socio-economic management based on interventional Research, designed for directors and business leaders from both public and private organizations and companies in various sectors. Approximately 2000 people have benefited from the training over the past 30 years.
He received many distinctions:
Rossi Prize Medal (Moral and Political Sciences Academy - Institute of France) with Véronique Zardet, for their overall work on the integration of social variables in the strategies of companies

The Socio-economic Management was awarded with the International Labor Office certification (Bureau International du Travail) for a work published by the International Labor Office in 2000 in three versions: English, French and Spanish
Academic Palms (Palmes Académiques) in 2009
Excellence Award (Prime d'Excellence ) since October 2009
Awards from the USA (Prix aux Etats-Unis - Academy of Management) in 2001 and in 2004 for the organization of the first offshore colloquia in France for two divisions of the Academy of Management.
He is the author of more than 300 articles and communications, and he published 62 books either as an author, co-author or coordinator.


*"Chevalier de la Légion d'Honneur"
Socio-Economic Management Group
Last updated: February 14, 2017