Enrolment

,

Courses

,

Student life

,
iaelyon school of management - Open House Saturday, January 29th, 2022
Published on December 1, 2021
–
Updated on February 25, 2022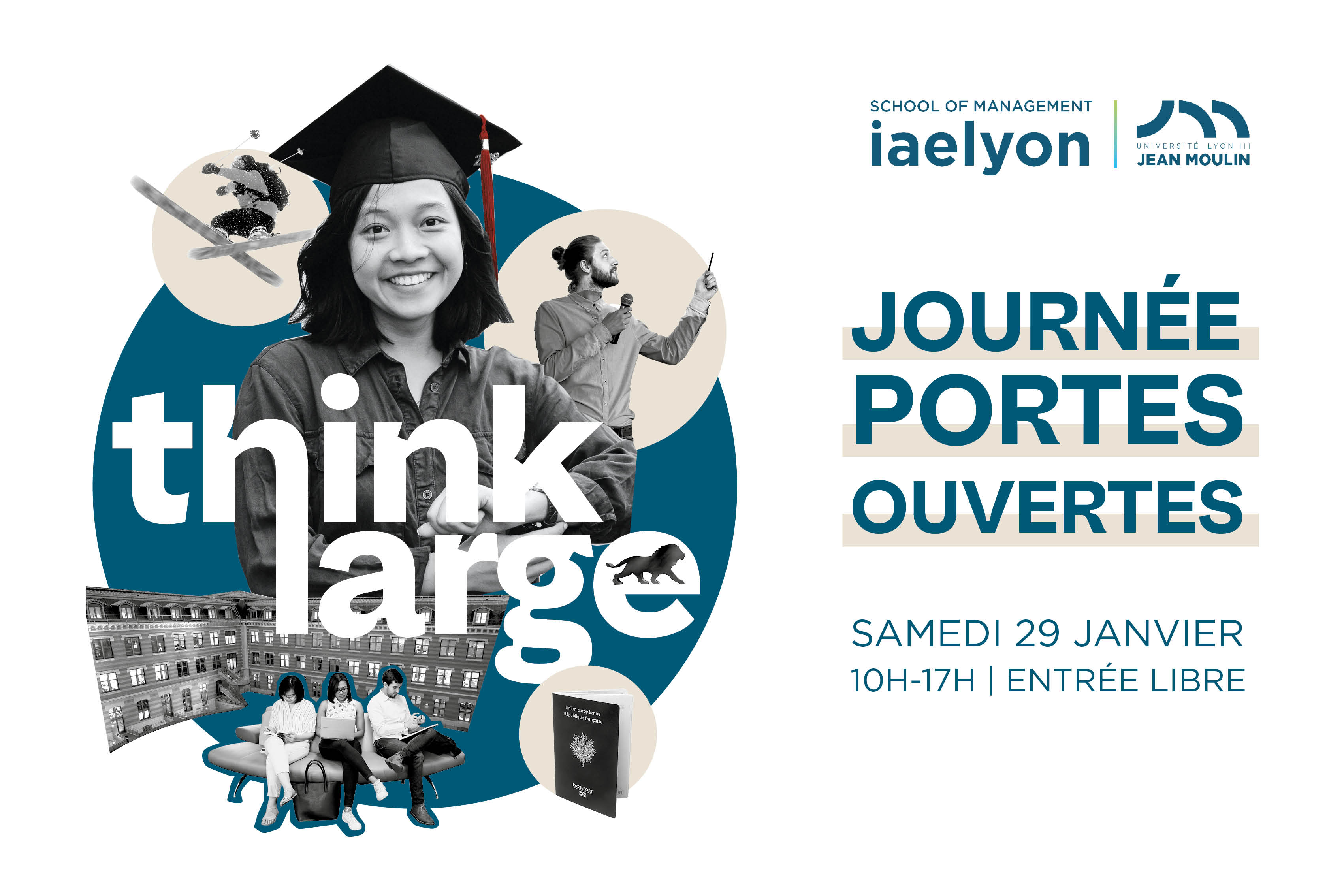 Are you a high school student? A first or second year-student at the University? A professional? Come meet the iaelyon teams on Saturday January 29th, 2022 from 10am until 5pm (free entry). This open house is only for iaelyon degrees.
The Open House is for all (free entry, no registration necessary).

► FOR PROFESSIONALS : Continuing Education Fair (Saturday January 29th, 2022)
Information booths for all degrees
Program Directors, administrative staff and students from all degrees (Bachelors, Masters and cooperative degrees) will exchange with the attendees.
Conferences:
Bachelor of Management: MSH & TQM curriculum, 1st, 2nd & 3rd year admissions
10.15am - Auditorium C (Jean-Jack Cegarra)
11.45am - Auditorium C (Jean-Jack Cegarra)
2.00pm - Auditorium C (Edouard Couétoux)
3.30pm- Auditorium C (Edouard Couétoux)
Bachelor of Business Management, 1st year admissions
3.00pm - Auditorium B (Sophie Cauchy)
Bachelor of Team Management, Quality and Sustainable Development
11.30am - Room 2 (ground florr)
Accounting programs:

10 am and 2.00pm: DCG Room 2 (ground floor)
11am : DSCG (pre-experience education) - Room1 (rez-de-chaussée)
2pm : Bachelor and Master's Accountancy, Controlling and Auditing Room1 (rez-de-chaussée)
3pm : DSCG (cooperative education)- Salle 3 (rez-de-chaussée)


Professional Bachelor in Commerce in Bank Insurance Industry
11.00am - Room 102 (1st floor) : Florence Dufour Ferrara
2.00pm – Room102 : Maxime Oblette
Professional Bachelor in Commerce in B to B Industry
10.30am - Room 3 (ground floor) : Aurélien Soustre
Professional Bachelor in Lighting Design and Management
11.30am - Room 3 (ground floor) : Pierre Morat

Campus Tour : from 10.30 to 4.00pm

iaelyon School of Management : complete and diversified study offer covering all management trades
Bachelors (1st, 2nd & 3rd year): Management, Humanities and Social Sciences, Quantitative Techniques and Management, Business Management, Team management, Quality and Sustainable Development, Accountancy, Controlling and Auditing, Management & Global Business.

Professional Bachelors (3rd year) which meet the true expectations of businesses in varied fields such as sales, bank insurance industry, mass distribution, lighting, construction project, payroll management, communication…
Masters (4th & 5th year) covering all management trades: finance, marketing, sales, communication, human resources, purchasing, logistics, international activities…
1st regional training center for accountancy and public accountant certification
Work based learning: 3rd, 4th & 5th year with professional training contracts and field-based contract
1st regional center for doctorate training in Management
Contact :
Thématiques :
Enrolment; Courses; Student life
Last updated: February 25, 2022
In the same section
--> https://iae.univ-lyon3.fr/iaelyon-school-of-management-open-house-saturday-january-29th-2022