J'M Entreprendre Contest 2021: 2 iaelyon projects named as winners!
Published on May 20, 2021
–
Updated on May 20, 2021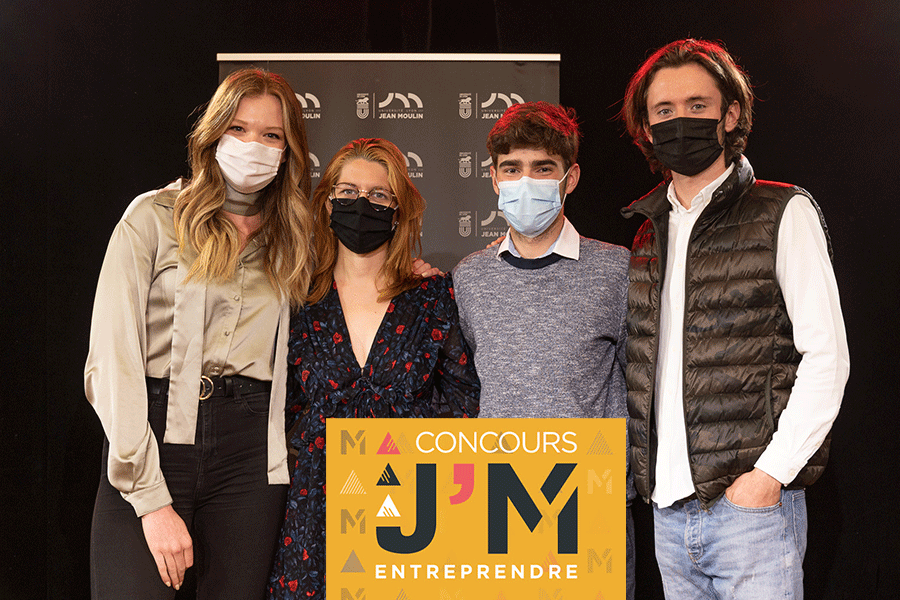 Of the ten projects that were run by students of iaelyon, two have been rewarded during the final of the J'M Entreprendre Contest, organized by the Manufactory Incubator of University Jean Moulin, on the 4th May 2021.
Open to all students of University Jean Moulin Lyon 3, the J'M Entreprendre Contest is aimed at rewarding and encouraging all innovative projects that could go from an idea to a concrete project. Going it alone or in a team, with a real or an imagined project, the candidates have the possibility to test their project, and perhaps discover an appetite for entrepreneurship.

The stakes: prizes to be won, sponsored by Caisse d'Epargne Rhône-Alpes, a partner of the contest, as well as a potential backing by business members of the jury.

2 winners amongst the projects run by students of iaelyon
Squitosplit – 1st Prize, Jury Prize (1000€) et Audience Prize (400€)
An electrified mosquito net which aims to fight malaria and other illnesses carried by mosquitos.
Project Developers: Maud GENOUEL, second-year student of Licence Science de Gestion (Bachelor in Management) and Matthieu GIL, second-year student of Licence Management et Sciences Humaines (Bachelor in Management and Humanities)

Welfer – 2nd Prize (600€)
Creation of a new generation horseshoe made from recycled rubber, with a double positive impact: the well being of the horse as well as environmental preservation.
Project Developer: Alexia LIAUD, first-year student of Master Entrepreneuriat et Développement des Entreprises Nouvelles (Master's in Entrepreneurship and development of new companies)
The other iaelyon projects that made it past the first round of the J'M Entreprendre Contest
(In total, of the 20 projects put forward for the first phase of selection, 10 were led by iaelyon students, both undergraduate and postgraduate, of which 5 had a focus on sustainability)
Mereolink (project that made it to the final round)
An online platform that allows interim workers to be recommended by employees using the service.
Project Developer: Alex VUILLOD, first-year student of Licence Techniques Quantitatives et Management (Bachelor in Quantitative Techniques and Management)

TrustInWine (project that made it to the final round)
International consulting service in wines and spirits, for both professionals and individuals, accompanied by a tracing technique for wines which informs wine amateurs and protects the brand image.
Project Developer: Elsa HUART, third-year student of Licence Techniques Quantitatives et Management (Bachelor in Quantitative Techniques and Management)

Récup & DIY (project that made it to the final round)
Box containing a selection of simple but necessary products to help students transition into living in student residences.
Project Developer: Nouara KEBSI, second-year student of Master Lettres, Culture, Entreprise (Master's in Business Culture)
Demeniz
Networking platform designed for individuals, which will help and modernize moving companies.
Project Developers: Jean NADREAU and Léo LECUYER, both first-year students of Master Finance Contrôle de Gestion (Master's in Finance and Controlling)

Get Dressed Vintage
Website for vintage shopping to encourage more responsible fashion.
Project Developer: Sebastien DI FOLCO, student of Licence Professionnelle Responsable de Services Généraux (Cooperative Bachelor in General Services Management)

Ucharge
Hiring service for batteries that would allow to you charge your phone whilst moving around the city.
Project Developer: Célia PELLOUX, first-year student of Master Marketing, Vente (Master's in Marketing and Sales)

Weemi
A platform that would help the fight against student isolation, with options to organize events and discussions (debates, games, etc.)
Project Developer: Yohan CALLET, third-year student of Licence Techniques Quantitatives et Management (Bachelor in Quantitative Techniques and Management)

Workool
A platform for young employees working at home, and through their place of business, that would indicate an ideal workspace in a natural setting.
Project Developer: Marie CLEMENT, third-year student of Licence Management et Sciences Humaines (Bachelor in Management and Humanities)

The final stage of the 4th May 2021: 3 laureates
7 project finalists met on the Manufacture des Tabacs campus for the pitching contest. The first two prizes were given to students of iaelyon.

► Find out the results of the final (in French)
Last updated: May 20, 2021
In the same section
--> https://iae.univ-lyon3.fr/jm-entreprendre-contest-2021-2-iaelyon-projects-named-as-winners