Seven new faculty at iaelyon in 2020
Published on September 30, 2020
–
Updated on April 14, 2021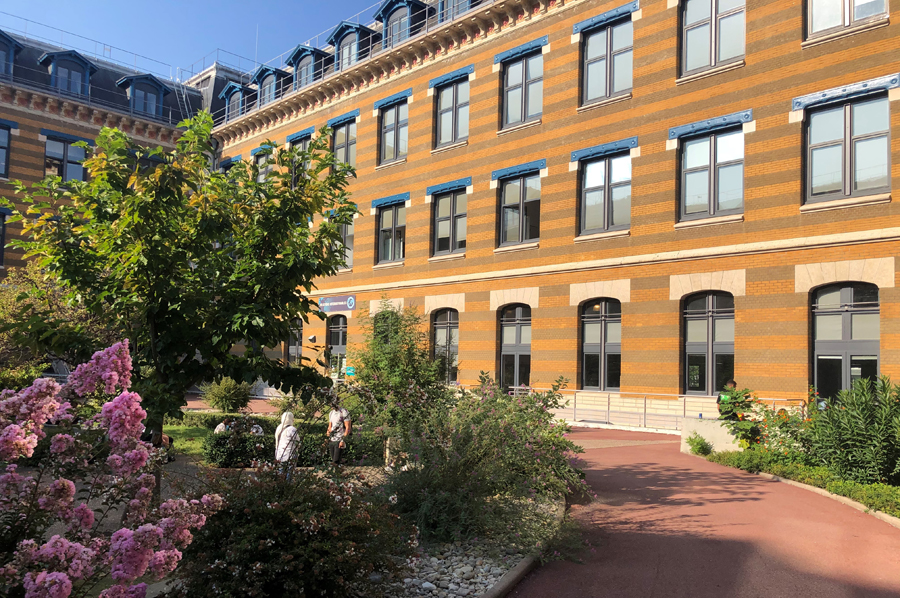 Seven new teachers, both professors and lecturers, have joined the iaelyon team for the new academic year in 2020. They bring with them new expertise and skills to add to our already renowned academic staff.
The teaching staff of iaelyon consists of 165 permanent, highly qualified professors, associate professors, and lecturers, as well as a variety of adjunct professors and adjunct associate professors. The teaching team covers a wide range of fields of expertise in order to fulfill needs in transmitting skills and lessons in the areas of study and research that iaelyon prides itself on.
More than 15% of our adjunct professors and adjunct associate professors come from the socio-economic world, being expert-practitioners in their field, with a direct link with the courses that they are teaching and the projects that they work on. Moreover, the multicultural skills of the teaching staff and their capacity to deliver courses in English at iaelyon are of the upmost importance to us, given our strong international partnerships and our courses that are held in English.
On top of the 165 permanent teaching staff, we have 95 international professors and 700 professionals joining us to contribute to the excellence that is iaelyon.
The new permanent teaching staff of iaelyon
Valérie REVEST, Professor of Economics and researcher at the iaelyon Magellan Research Center.
Her research is centered around two wide themes. The first is entrepreneurial finance and the financing of innovation. Her scholarly work has explored the emergence and the function of stock markets dedicated to SME. Her second research domain is the intermediation platforms of innovation and the current transformation of public policy to better support innovation.

Dr. Revest has participated in a number of national and international research projects, notably a H2020 project such as ISIGrowth (Innovation-fueled, Sustainable, Inclusive Growth) and GrowInpro (Growth Welfare Innovation Productivity).

She was previously the scientific director of several programs, such as "Public actions and the digital world: new relationships between the governing and the governed?" with the Maison des Sciences de l'Homme Lyon St-Etienne. She has also been published in high-ranking international journals such as Small Business Economics: An entrepreneurship Journal, Socio-Economic Review, Industrial and Corporate Change, Technological forecasting and Social Change, and the Journal of Evolutionary Economics.

Nathalie BERNARD, Associate Professor of Human Resource Management
After a lengthy career as a manager in a large company, Dr. Bernard received her doctorate in management sciences from the University of Grenoble-Alpes and was certified as an actuary by CNAM Paris. In 2020, Dr. Bernard joins us as an associate professor of human resource management.

Her research has focused on the relationship between wellbeing at work and the performance of a company, whether it be through the vision that actors possess or through the possible ways of conciliation, notably through the piloting of work conditions and practices in human resource management. The theory of paradoxes is her conceptual framework of reference.

Sabrina BOULESNANE, Associate Professor of Information and Communication Sciences and member of the iaelyon Magellan Research Center, in the Information Systems research group.
She was previously an associate professor at the IUT of Université Jean Moulin Lyon 3 from September 2009 to August 2020.
The teaching and research activities of Dr. Boulesnane are carried out in a time where technological tools represent a way of capitalizing on information and knowledge in organizations. Moreover, the integration of ICT in organizations has encouraged use and practices of professional actors to be reinforced, in a socio-economic world that is constantly evolving.
Dr. Boulesnane's main research questions are based on communicative information systems, their organization, methods, practices, uses and appropriations. She is also interested in digital humanities, e-administration and CivicTech, as well as digital projects that focus on regional development.
Paul-Olivier KLEIN, Associate Professor of Finance and researcher at the iaelyon Magellan Research Center.
His research work has mainly explored business finance, issuing of bond debts, banking finance and the dynamics of financial markets (pricing, bubbles, predictions, etc.). Dr. Klein teaches portfolio management in a variety of our master's degrees, as well as financial analysis in second-year bachelor degrees.

Previously, Dr. Klein was a lecturer at the Business School of the University of Aberdeen, where he started a Master of Finance. He completed his doctorate at the University of Strasbourg, under the supervision of Laurent Weill. Dr. Klein was also a visiting researcher at HEC Montréal, the Bank of Finland and the University of Konstanz in Germany.

Claire BASSIN, Lecturer in Accounting
After studying at the University of Auvergne, Ms. Bassin obtained her diploma in accounting in 2005. She was then an accountant and an auditor for almost fifteen years in a variety of environments : large auditing firms, regional accounting cabinets and then an independent cabinet that she created.
In 2018 she decided to change careers and focus entirely on teaching. She obtained a tenured teaching position in economics and management, and taught in high schools for two years, before joining us in September 2020 to teach accounting, auditing and taxation.

She is currently pursuing her doctorate at the iaelyon Magellan Research Center on the quality of financial information. Her thesis has led her to work on different research projects on international accounting norms and new laws that govern the profession of a legal auditor.



Laura GAY, Lecturer in Mathematics
Dr. Gay is a tenured teacher of mathematics. After having received her degree at ENS Rennes and the University of Rennes I, she pursued her doctorate at the Ecole Centrale de Lyon, where she focused on the prediction and estimation of the risk of heatwaves. The dynamic of temperatures having being modeled on a stochastic process (Ornstein-Uhlenbeck), Dr. Gay's work centered around studying this process (estimation of parameters, joint law of supremum and process, etc.) .
Dr. Gay then taught at both secondary schools and at Ecole Centrale de Lyon before joining iaelyon as a mathematics lecturer in 2020.


Nicolas POLLINI, Adjunct Associate Professor of Purchasing Management
Mr. Pollini has 20 years of experience in purchasing in multinational and mid-sized companies that were in both industrial and service-orientated sectors. He has been teaching part-time for the last 15 years in the Master of Purchasing of iaelyon as a professional associate. He holds an Executive MBA from the University of Paris Dauphine, and was previously a student of iaelyon, having received his Master in Management (specialization in purchasing and auditing) in 1999.
iaelyon School of Management
Last updated: April 14, 2021