Student life

,

Associations

,

Culture

,

Enrolment

,

Sports

,
Association Fair at Jean Moulin University: 7 iaelyon associations iaelyon are waiting for you!
Published on October 6, 2021
–
Updated on October 6, 2021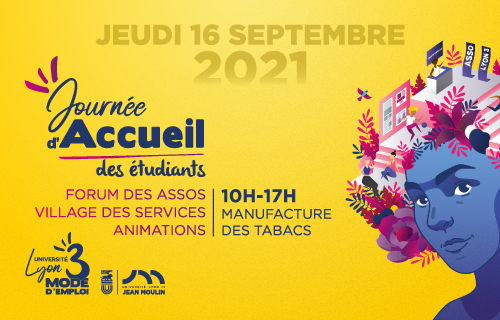 Meet 7 of the 12 associations of iaelyon at the Association Fair. You will have the opportunity to meet the members of the associations, discover their activities, the way they work and maybe join one of them! This event is open to everybody, and more specifically to new students.
Students associations are at the core of the iaelyon experience. They facilitate the integration of students, they contribute to their development and galvanize the campus life. They allow their members to benefit from an educative experience and give them professional assets
Presentation of the 7 associations of iaelyon during the Association Fair:
-
iaelyon Junior Conseil
, works as a consulting office
-
Learn To Trade
, focuses on networks development, organizes various events to bring together students and the university staff (conferences, parties, afterworks).
-
BDE iae Fraternity
, galvanizes the student life, promotes and develops the spirit of mutual assistance within the various classes.
-
Enactus iaelyon
is a member of the Enactus France network. It helps students to build, develops and promotes their social entrepreneurial projects.
-
BLyon
promotes management, finance and entrepreneurship through various events
-
Thats' iaelyon
unites iaelyon students, develops relationships with companies in Lyon, promotes iaelyon and the city of Lyon at the national level while promoting the values of the IAE France network.
-
BDE Tout'iae
organizes parties and weekends to give the opportunity to students to meet other students as well as university staff and professors during the gala.
-
Imp(r)ose-toi !
The University supports students in their integration . Check the full program for more information, about meetings, visits and activities in September
Full program
Informations
­16 September 2021
From 10:00 to 17:00
Last updated: October 6, 2021
In the same section
--> https://iae.univ-lyon3.fr/association-fair-at-jean-moulin-university-7-iaelyon-associations-iaelyon-are-waiting-for-you