Noémie DOMINGUEZ, iaelyon has been awarded the thesis prize in Management from the University Jean Moulin.
Published on January 10, 2017
–
Updated on February 2, 2017

Noémie DOMINGUEZ has been awarded the 2015 Prize for her thesis "SMEs' internationalization and implementation of gateway strategies" that she wrote at the iaelyon Magellan Research Center. Jacques COMBY, President of the University Jean Moulin, and Peter WIRTZ, Vice-President in charge of Research gave her the award on December 16th, 2016.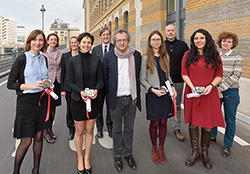 The thesis was written under the supervision of
Ulrike MAYRHOFER
, Full Professor and
Catherine MERCIER-SUISSA
, Associate Professor, Certified to Supervise Research.
Internationalization is a challenge for small and medium-sized companies (SME's) who see it as a way to diversify their markets and to speed up their growth. The Research deals with the implementation of gateway strategies, an approach which consists in establishing oneself in a country in order to re-export to neighbouring third markets. The thesis was written in close collaboration with five Rhone-Alps SMEs who have at least one subsidiary abroad: ABC Group (limited company), SLAT, Emball'iso, Mixel Agitateurs, Hydrola.
The results show that the implementation of gateway strategies -which is often a four step process- can be explained by motivations linked to companies, networks, gateway countries and targets.
The gateway strategies embody a new form of internationalization allowing SME's to add value to their assets (in mature and emerging countries) since they facilitate the access to new markets while limiting the commitment of resources and the exposure of SME's to local risks.
Noémie DOMINGUEZ explains:
"The thesis was a most rewarding experience both from a human and professional point of view. I had the opportunity to work under the co-supervision of Ulrike Mayrhofer and Catherine Mercier-Suissa in collaboration with passionate and generous managers who did not hesitate to immerse themselves into the project and thus allow its completion".
> Find out more about Noémie Dominguez
Last updated: February 2, 2017