Publication: The Doctor of Business Administration - Taking your professional practice to the next level. By Michel Kalika
Published on August 25, 2022
–
Updated on August 25, 2022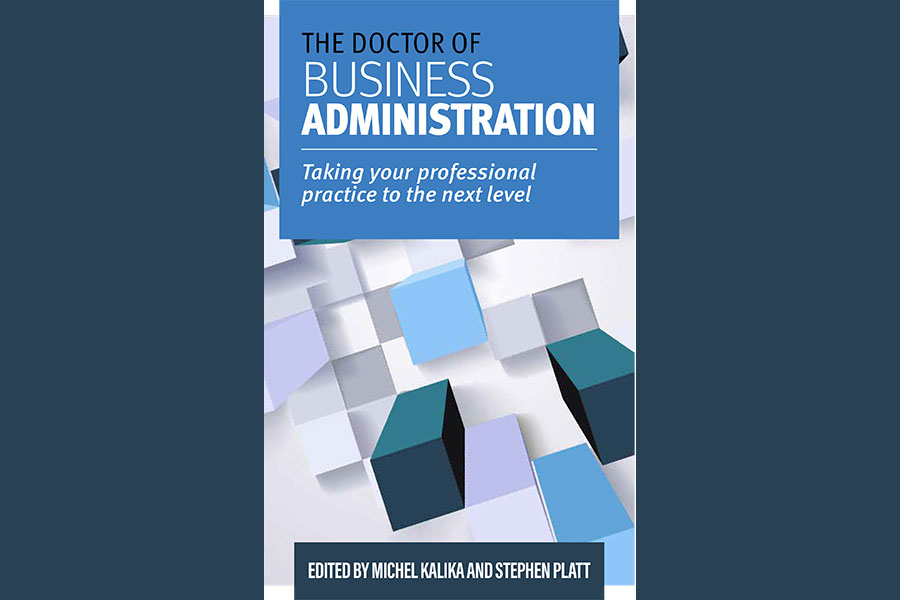 Joint publication edited by Michel Kalika, Professor Emeritus at iaelyon School of Management and President of the Business Science Institute, and Stephen Platt with contributions from 15 professors and managers working in internationally accredited DBAs run by leading higher education.
From an emergent and niche market, the Doctorate of Business Administration (DBA) will undoubtedly grow to answer the new needs of senior managers working in increasingly complex and uncertain work contexts that require decision-makers trained in the critical thinking skills provided by a DBA for professionals.
This book has been written by professors and managers working in internationally accredited DBAs run by leading higher education
institutions on three continents. It aims to explain why this development will happen, and why more and more managers will decide to pursue what is a rather special and unique doctoral programme. It also aims to answer many of the questions that future DBA students are likely to ask.
The book has therefore been structured into three logical parts:
Part one, Why a DBA programme?, answers some key questions about the reasons for the existence of a doctoral programme for business professionals. The authors explain that DBA programmes exist to answer the need of the market, and clearly expose the differences between a DBA and a PhD.
Part two, The DBA programme, opens up the black box of this so-far little-known doctoral programme. The authors clarify participant profiles and motivations, programme design, the partnership between student and supervisor, student support mechanisms, and the all-important supervision of the thesis.
Part three, The impact of the DBA, then discusses the huge added-value of a DBA for practising managers in terms of personal benefit, but also for their organisations, and for wider society.

Edited by Michel Kalika and Stephen Platt
With contributions from: Helena Barnard - Claire Collins - Joy Garfield - Ruben Guevara - Helen Higson - Vassili Joannidès de Lautour - Michel Kalika - Drikus Kriek - Jane McKenzie - Michelle Mielly - Diego Norena-Chavez - Chris Owen - Emma Parry - Stephen Platt - Vivienne Spooner - Simon Willans - Nicky Yates.
Foreword by Jean Bartunek.

Ideas for Leaders Publishing, 268 pages, July 2022
About Michel KALIKA

Michel Kalika

is Professor Emeritus at the Unviersity Jean Moulin, iaelyon School of Management.
He is the director of BSIS (Business School Impact System) which he developed for FNEGE and EFMD. This initiative has been used in 39 business schools and 44 international campuses in 13 countries. He is also the president of the Business Science Institute (and its subsequent Executive DBA). He was previously dean of the EM Strasbourg Business School, where he was in charge of the fusion of the two institutions, dean of IAE Poitiers; research professor at Audencia and professor at University of Paris-Dauphine where he developed two international programs, an MBA and a DBA. Michel is the author or co-author of more than 25 works (of which Management stratégique, the most republished French work in the field) and around 100 other publications on strategy and information technology. His research has focused on the use of email by managers (the "Millefeuille" theory) and the impact of business schools.
In 2019, 40 colleagues paid an homage to him with the work
Entrepreneur à l'Université
, 307 pages.
His personal website:
http://michelkalika.com/
Executive DBA
The DBA is for senior executives in management, company directors and consultants.
>
Find out more
Last updated: August 25, 2022