Student life

,

International

,

Associations

,
That's Human Care III by that's iaelyon: a humanitarian mission in Romania
Published on March 6, 2023
–
Updated on March 22, 2023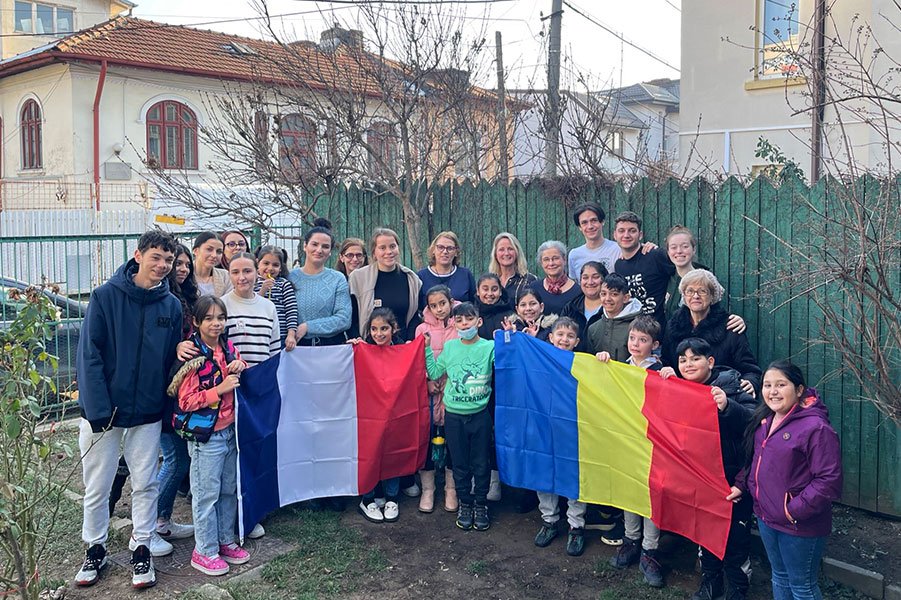 From February 10 to February 17, 5 students from iaelyon led a solidary action in Bucharest, alongside the association Valentina Romania for children in precarious situations. The goal of this trip, focused on solidarity and sharing, was to provide support and financial assistance to the association and its beneficiaries. It was the third edition of this humanitarian trip, created and managed by the student association That's iaelyon.
6 months of up-front work
From September to February, the students rallied many partners, conducted a fundraiser and hosted gift-wrapping booths during the holiday season. The money collected allowed them to fund the activities planned with the children and to financially help the association for its future projects.

A human and solidarity-based adventure
"When we arrived in Bucharest, we met the team from Valentina Romania during a French workshop and an educational animated movie. This allowed us to get to know the children. The following days were divided in two parts: in the morning we were helping the association to craft "martisor"– small brooches wore by women to announce spring, to fulfill two orders from international companies. We were able to assess these partnerships, by estimating the demand, the human and financial means to be engaged and the manufacturing time. In the afternoon, we were in charge of organizing activities for the children, based on sharing and fraternity. Despite the language barrier, we were able to talk with them, using drawings and mimes."

A contribution to education
"We realized the interest of the actions carried out by the association Valentina Romania with the children and their families. School in Romania is mandatory. However, many parents, who didn't go to school themselves, don't support their children to be diligent in their studies as they consider it is not important. Our intervention definitely convinced several families of the opposite and we are really proud of it!" Explains Blandine Durand Pierre, Master's 1 student in International Business Realities and co-pilot of the That's Human Care project.
►
Suivre That's iaelyon
Contact :
Partners :

Thématiques :
Student life; International; Associations
Last updated: March 22, 2023
In the same section
--> https://iae.univ-lyon3.fr/thats-human-care-iii-by-thats-iaelyon-a-humanitarian-mission-in-romania