Five new faculty at iaelyon in 2022
Published on October 7, 2022
–
Updated on October 7, 2022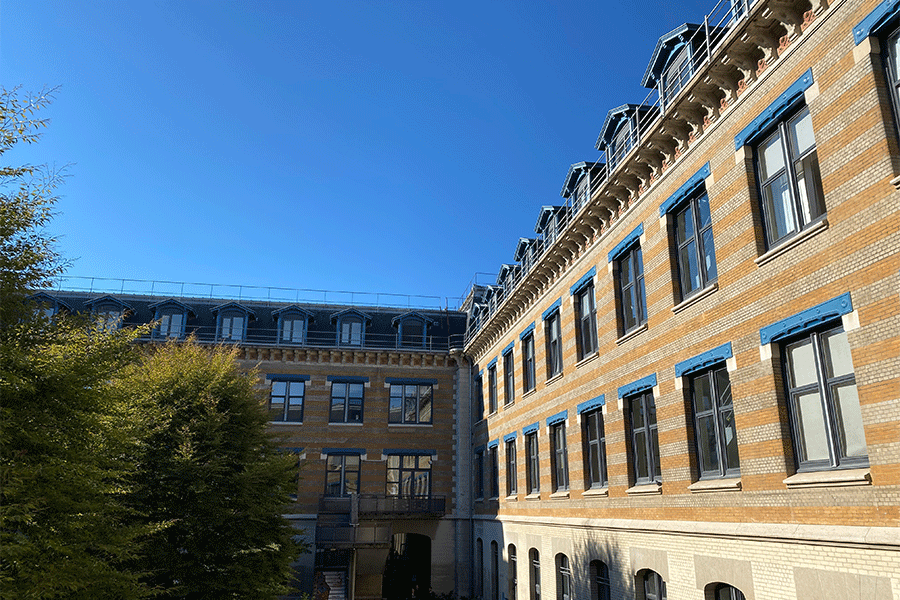 Five new faculty, both professors and lecturers, have joined the iaelyon team for the new academic year in 2022. They bring with them new expertise and skills to add to our actual academic teams.
The faculty at iaelyon consists of more than 160 permanent and highly qualified professors and lecturers. The teaching teams cover a wide range of expertise in order to fulfill needs for skills transfer in areas of study and research.
More than 15% of professors and associate professors come from the socio-economic world, being expert-practitioners in their field, with a direct link with the courses they deliver and the projects they develop. Moreover, the multicultural skills and the capacity to deliver courses in English of the faculty at iaelyon are crucial given the development of international partnerships and the programs held in English.
In addition to these permanent professors, 95 international professors and nearly 1,000 visiting professionals teach every year.
The new permanent teaching staff at iaelyon
Célia LEMAIRE, full professor, Management control, researcher at Magellan Research Center-iaelyon and at HuManiS
After a professional experience at EM Strasbourg from 2014 to 2022 where she led the Master's degree in Management control et co-directed the EMBA Hospital and Healthcare facilities management, Célia Lemaire joined iaelyon and the Magellan Research Center in September 2022.
Her research focuses on organizational and managerial methods that facilitate the work of health and social workers to improve the trajectories of the supported persons. She addresses management control as " a link builder", considering the double meaning of the term link, that can federate actors around projects or overly constrain them; and tries to identify the conditions that favor an optimization of the systems to consider the singularity of the situations. She has published in Accounting, Auditing & Accountability Journal (AAAJ), The International Journal of Human Resource Management (IJHRM), Accounting Auditing Control (AAC), Qualitative Research in Accounting and Management (QRAM), BMC Health Service Research.
She mainly teaches management control and research methodology and is certified to supervise research.
Currently, she coordinates the interdisciplinary project ANR-Région Grand Est Innovehpad https://anr.fr/Projet-ANR-20-GES1-0004

Mohamed KHENISSI, Associate Professor, Finance
Mohamed Khenissi teaches mainly in corporate finance and group accounting. He also oversees the DUSCG professional theses. His research focus on the corporate societal responsibility and corporate governance, particularly the executive officers' remuneration. He is the author of several articles and publications about executive remuneration.



Frankie CLANCHÉ, certified Professor, English
Frankie Clanché has been a high school teacher for twenty years and in charge of BTS and DCG classes for eight years. He also gave tutorial classes in higher education for eight years at the Languages Center of Lyon 2 University as, and in DCG at iaelyon in 2021-2022.



Nathan LABROSSE, Adjunct Associate Professor, Marketing
Nathan Labrosse is an independent consultant and facilitator in Connected Marketing and Digital Communication. He has been teaching at iaelyon since 2017. A seasoned technician, he likes leading web projects with pragmatism and dynamism to turn a simple idea into a concrete result. Graphic designer at heart, marketing expert, integrator and self-taught front-end developer, his versatility allows him to support organizations in all stages of their project's evolution, from its birth to its height.

Fabien REVOL, Adjunct Associate Professor, Information System
Fabien Revol has been working in the IT world for 15 years. He started his career as a consultant and SAP project manager for 6 years. In that capacity, he was in charge of multi-sites and international fixed price projects (Lyon, Paris, Toulouse, Switzerland, Sweden, Morocco, India), for clients of all sizes: from the 10 FTE IT department to major international groups (OCP, Sanofi, Volvo). He was then responsible for delivery in an internal IT department (in charge of three teams/ around thirty persons, in charge of smooth running of IT projects: deadlines and budgets compliance, implementation of good project management practices, recruitment….)
He returned to ESN as Project Manager and then Project Director, always with a fixed price commitment, including: implementation of agility in the broadest sense of the world on projects, 24/7 on-call management, HR management, quote management, continuous improvement, budget management and customer commercial relationship.
iaelyon School of Management
Last updated: October 7, 2022