Six new faculty at iaelyon in 2021
Published on October 11, 2021
–
Updated on October 11, 2021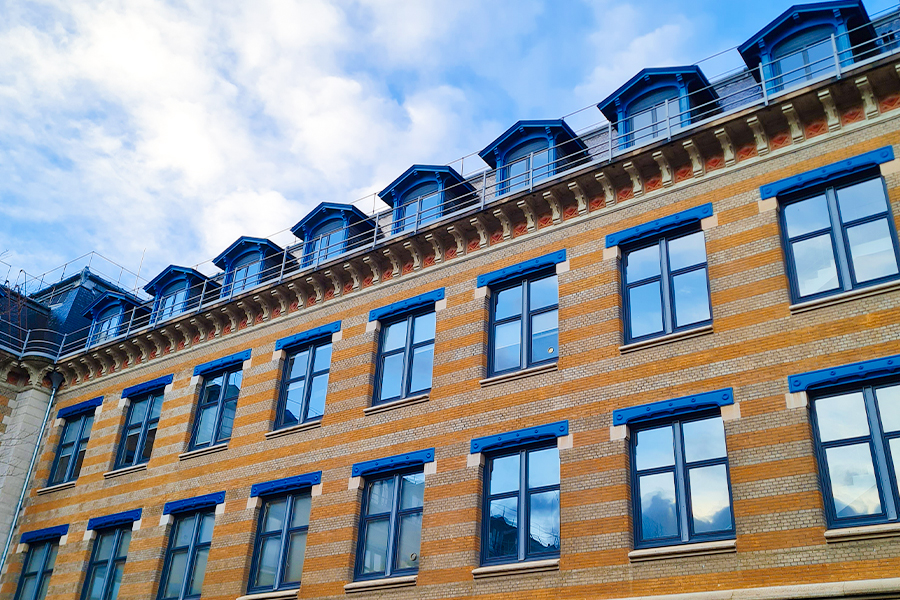 Six new teachers, both professors and lecturers, have joined the iaelyon team for the new academic year in 2021. They bring with them new expertise and skills to add to our already renowned academic staff.
The teaching staff of iaelyon consists of 165 permanent, highly qualified professors, associate professors, and lecturers, as well as a variety of adjunct professors and adjunct associate professors. The teaching team covers a wide range of fields of expertise in order to fulfill needs in transmitting skills and lessons in the areas of study and research that iaelyon prides itself on.
More than 15% of our adjunct professors and adjunct associate professors come from the socio-economic world, being expert-practitioners in their field, with a direct link with the courses that they are teaching and the projects that they work on. Moreover, the multicultural skills of the teaching staff and their capacity to deliver courses in English at iaelyon are of the upmost importance to us, given our strong international partnerships and our courses that are held in English.
On top of the 165 permanent teaching staff, we have 95 international professors and 700 professionals joining us to contribute to the excellence that is iaelyon.

The new permanent teaching staff of iaelyon



Gregor BOUVILLE, Full professor of Human Resource Management and researcher at the Magellan Research Center.

Dr. Bouville was an Associate Professor at Paris-Dauphine University PSL and co-director of the Management & Organization research team.
His research works focus on human resources management, organizational behavior, health at work, work organization and working conditions, the question of gender and gender inequality at work, the analysis of the links between literature and management.

Dr. Bouville is a board member of the GIS GESTES group (Work and Health at Work research group) and he regularly organizes seminars within this group. He was an expert-assessor for the European Commission for the Horizon 2020 research project focusing on health at work and the scientific director of several research projects.

His research works were published in several national and international journals, such as @grh, Revue de Gestion des Ressources Humaines, Management International, Journal of Occupational and Organizational Psychology, International Journal of Human Resource Management.



Julien CLOAREC, Associate Professor of Data Science and researcher at the Magellan Research Center

Julien CLOAREC is an IT engineer and holds a Ph.D. in Management, for which he was awarded the Best Thesis Prize by the French Foundation for Management Education and a Special Distinction by the French Marketing Association. He was a researcher at the Center for Research in Information Technology and Business at the Université Laval, in Canada. His research works focus on the privacy of consumer data and new technologies. He was published in several journals, such as Psychology & Marketing, Technovation and Technological Forecasting and Social Change. He collaborated with several institutions worldwide: Temple University (USA), Karlsruhe Institute of Technology (Germany), DHBW Stuttgart (Germany), Universidad de la Sabana (Colombia), Universidad de la Salle (Colombia), Business Science Institute (Luxembourg), Toulouse Business School (France) and Institute Mines-Télécom Business School (France). He also received funding from several organizations: Association for Consumer Research, European Cooperation in Science and Technology and the French Foundation for Management Education.

Caroline TAHAR, and researcher at the iaelyon Magellan Research Center.

Her research works focus on services controlling. Several of them are linked to interventions with economic actors. After several articles about time management control in services, her recent academic publications about the hybrid organizations reconcile general interest and economic efficiency. Her work are part of the themes that have been developed for the Finance Research Groupe in Magellan Research Center and in the "Sustainable Performance" team.

As for her teaching activities Caroline Tahar is mainly teaching controlling. She is responsible of various courses: fundamentals for beginners and more technical or conceptual courses for specialists (Master 2 in Accountancy, Controlling and Auditing (CCA) and Controlling and Auditing (CGAO)) .She teaches in French and English, face-to-face and in asynchronous e-learning (creation and animation of online courses). Her teaching experience in controlling allowed her to participate in the writing of some reference books in controlling.





Joachim DE PAOLI, Assistant professor of Economics and researcher at Magellan Research Center.

Jaochim DE PAILO holds a Ph.D. in Economics and his research works focus on two main themes.

The first is about the history of economic thought. He studies the contribution of economic engineers and the French Liberal School in the 20th century and explains how old developments can still be found nowadays. This leads him to study the liberal's reactions to the social question and how transport infrastructure is managed.

The second one deals with European economy. He studies how a European budget might complete the Euro Zone in terms of stabilization and redistribution.

He participated in several international conferences and has also been published in high-raking journals classified by the HCERES (High Council for Evaluation of Research and Higher Education).



Mathilde GAMICHON, Assistant Professor in Finance and Controlling

After working in a wealth management company and accounting firms, she decided to focus on teaching and received a teaching diploma (agrégation) for Economics and Management.




Ivan MOREL,Assistant Professor in Mathematics

After passing his Master degree in Core Computing Sciences at the ENS Lyon, he started his Ph.D. about the Lattice Basis Reduction Algorithm (LLL) in co-supervision between the ENS Lyon and the University of Sydney. He decided to give up his thesis to focus on teaching.

He has been teaching in high school for 10 years while keeping in touch with higher education (IUT Lumière Lyon 2, iaelyon).

iaelyon School of Management
Last updated: October 11, 2021